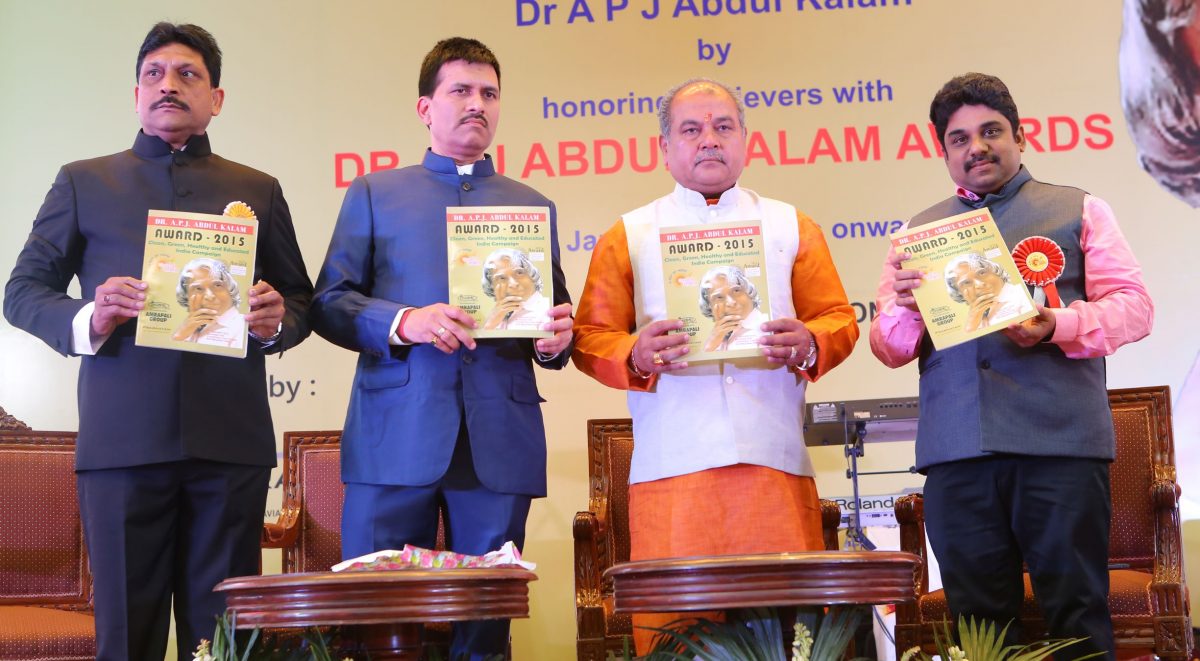 Utthan Samiti also honour different people who are working for the betterment of the society outstandingly with "Dr. A.P.J Abdul Kalam Award". It also honours other people who are working for the society with "Utthan India Award", and "Utthan Natraj Samman".
Objectives of the Award:
To motivate young people to achieve excellence in the field of Social Service as well as to achieve goal of "Clean, Green, Healthy & Educated India" .
To encourage young people to develop a sense of responsibility to their community and thus to improve their own personal potential as good citizens.
Recognizing the work done by young people for Development Service.
To give reorganization to the outstanding work done by voluntary organizations working with the youth for National development and / or social services.
Description of the Award:
The Award shall be given for demonstrably excellent work in different fields of development activities and social services.
"Dr. A.P.J. Abdul Kalam Award" would be given to voluntary organizations engaged in involvements in various programs of National Development.
"Dr. A.P.J. Abdul Kalam Award" to individuals will comprise a Shield / Trophy, a Certificate, Gift Voucher and a Shawl. The Individuals will receive the prizes in their traditional attire.
Condition of Eligibility:
He / She should be between the ages of 18 – 80 years. He / She should have completed 18 years on the 1st April of the financial year for which award is to be conferred and should be less than 80 years of age on the last date of application.
He / She should have rendered services in the relevant field during the financial year for which award is to be given and should also be the one who is likely to continue to involve himself / herself in such activates for at least another two years after conferment of the award.
The service rendered should be on a voluntary basis and should have made a remarkable impact in the community / society.
The impact of the service rendered by him / her in person should be clearly identifiable preferably quantitatively.
He / She not have been conferred such an award earlier. Such of the persons who are recommended for the award once and are not finely selected can, however, be recommended again.
                                      

   LIST OF AWARDEES

Dr. Bindeshwar Pathak (Padma Bhushan)  
Life Time Achievement Awards                                             
 Founder Sulabh International
I am the son of the son of Mahatma Gandhi but Dr. Bindeshwar Pathak is the son of his soul. If we were to go to meet Mohandas Karamchand Gandhi, he would first greet Dr. Pathak for the noble work that he is doing and then meet me. Dr. Pathak has restored human rights and dignity to people engaged in the manual cleaning of human excreta which they carried as Head-Load.
"Dr. Bindeshwar Pathak, Founder, Sulabh International (India)is the humanist, social reformer and diversity champion. Pathak works as an advocate for the so-called 'untouchable' caste, so they may work, live and pray as a fully integrated part of Indian life. His work in the improvement of sanitation and production of bio-gas is changing health and wealth outcomes for the poorest people and is cited as one of the Globally Best Practice by the United Nations Centre for Human Settlements."
THE ECONOMIST (BINDESHWAR PATHAK) AMONGST TOP 50 ICONS RECOGNISED IN THE GLOBAL DIVERSITY LIST – Dr. Pathak joins the roll of honour for world's Top 50 diversity figures in public life along with US President Barack Obama, Angelina Jolie and Bill Gates (November 2015).
SWACHH BHARAT ABHIYAN : Precursor and Proponent Dr. Bindeshwar Pathak and Shri Narendra Modi.In a remarkable new development, the present Prime Minister Hon'ble Shri Narendra Modi has powerful underlined that without freedom from filth India cannot become a great nation. He has kicked off Swachh Bharat Abhiyan, which is a national mission to make India's Streets, roads, and infrastructure clean by 2019. The central component of the mission is construction of toilets. Besides constructing toilets in every school immediately, it plans to construct 12 crore toilets in rural India by October 2019. The aim is to provide every household a toilet and thus eliminate open defection. Conversion of insanitary toilets to pour-flush toilets and eradication of manual scavenging are integral parts of the mission's objective. The Prime Minister's plan of cleanliness has generated a nationwide enthusiasm, and Dr. Pathak alongwith his organisation Sulabh, which has a formidable expertise and track-record in this area, is playing an important role in this mission. Sulabh has adopted many villages, like Hirmathla village in the state of Haryana, making them free from open defecation. Here, as in many other places, Sulabh has built public and household toilets. In Punjab, Sulabh is set to build 12,000 individual toilets and more than 7000 toilets have also been built in Schools across different states of the country.
Father's Name : Late Rama Kant Pathak
Date of Birth : April 2, 1943
Place of Birth : Rampur Baghel, District Vaishali, Bihar, India
Education : M.A. in Sociology M.A. in English Ph.D. on "Liberation of Scavengers through Low Cost Sanitation", from Patna University, Patna, Bihar. D.Litt. on "Eradication of Scavenging and Environmental Sanitation in India a Sociological Study", from Patna University, Patna, Bihar.
Ustad Amjad Ali Khan (PadmaVibhushan)
Sarod Maestro
Amjad Ali Khan born 9 October 1945 is an
Indian classical musician who plays the
Sarod. Khan was born into a musical family
and has performed internationally since the
1960s. He was awarded India's second highest civilian honor, the Padma Vibhushan, in 2001. His family is part of the Bangash lineage and Khan is in the sixth generation of musicians; his family claims to have invented the sarod. Khan received home schooling and studied music under his father. Khan first performed in the United States in 1963 and continued into the 2000s, with his sons. Khan played with the Hong Kong Philharmonic Orchestra and worked as a visiting professor at the University of New Mexico.In 2011, he performed on Carrie Newcomer's album Everything is Everywhere with his sons. Khan has recently been awarded 21st Rajiv Gandhi National Sadbhavna Award. Khan received the Padma Shri in 1975, the Padma Bhushan in 1991, and the Padma Vibhushan in 2001, and was awarded the SangeetNatakAkademi Award for 1989 and the Sangeet Natak Akademi Fellowship for 2011. He was awarded the Fukuoka Asian Culture Prize in 2004. The U.S. state Massachusetts proclaimed 20 April as Amjad Ali Khan Day in 1984.He received the Banga- Vibhushan in 2011. A Gulzar directed documentary on Amjad Ali Khan won Filmfare award in 1990. Khan was married to Bharatanatyam dancer Subhalakshmi, on 25 September 1976.They have two sons, Amaan, the older one, and Ayaan, who were taught music by their father.Their family home in Gwalior was made into a musical center, they live in New Delhi.
Dr. Shovana Narayan (Padma Shree)
Kathak Guru
Shovana Narayan is best known as one of the best Kathak danseuses in the world. She is taken by the youth of today as pioneer and a role model in successfully combining two parallel careers with success and dignity. She performs in India and around the world, and has been awarded the Padma Shri. Her guru is BirjuMaharaj.Narayan studied at Miranda House in Delhi, India, graduating with a Master's degree in Physics in 1972. She completed MPhil in Defence and Strategic Studies from University of Madras in 2008 and M.Phil in Social Sciences from Punjab University in 2001. She also worked as a career officer for the Indian Audits & Accounts Service and retired in 2010. She is married to Dr. Herbert Traxl,Austrian Ambassador to India.As a 'Performer and Guru', Shovana Narayan is India's most celebrated and outstanding Kathak Maestro of the present age; well-known both as choreographer and performer. As a 'Choreographer-Performer', Shovana Narayan has spearheaded and produced international collaborative works with leading dancers of Western Classical Ballet, Spanish Flamenco, Tap dance, Buddhist chants with Buddhist Monks as well as to the compositions of western Classical composers. She is the first dancer to have conceived, conceptualised and brought out a dance video on the philosophy and legend of the immortal Khajuraho temples entitled 'Dance of the Temples'. She is the leading actor in films "Akbar's Bridge" (Hindi) and "Das Geheimnis des IndischesTanz" (German).
As an 'Organiser', Shovana Narayan organises annually:
A Festival for young torchbearers of classical performing arts 'Lalit?rpan Festival' at India Habitat Centre (for almost a decade).
TheAsavari festival featuring maestros of classical performing arts (for over two decades).
The Annual Day 'Rhythm & Joy' of young students of Kathak (for over two decades). Shovana is a dancer with a cause. Deeply committed, involved and aware of people and their problems, she was deeply involved with the organisation and presentation of the first artists' sensitive outpourings and endeavor to help the families affected by the Kargil war, the Tsunami and the Bihar flood. She is a regular and most ardent champion of issues related to women's problems and the 'especially abled'. She has conceptualized and choreographed several ballets on women's issues and other social issues.
Prakash Singh   (Padma Shree)
Ex-D.G.-BSF, Ex-D.G.P.-U.P. & Assam
Prakash Singh is a retired officer of the Indian Police Service, who was chief of the Uttar Pradesh Police and BSF. He is also known for his work for Police reforms in India. After his resignation from IPS in 1996, he filed a Public Interest Litigation (PIL) in theSupreme Court of India. The verdict on this PIL came in 2006 in which, the Supreme Court has suggested various police reforms to State Governments.Prakash Singh is a recipient of Padma Shri Award in year 1991 for his contribution to Civil Service.
Ram V. Sutar   (Padma Bhushan)
Sculpture Artist
Born on 19th February, 1925 in a Small Village Gondur, around 3Km from Dhule.Dhule is a small district town near Chalisgaon Junction.He earned Diploma in Sculpture with a Gold Medal from Sir J.J. School of Art, Mumbai in 1952. He works with ease and mastery in bronze. He has been wallowing in the rich arena of realistic sculptures and  he  has been recognized by various Countries and Artists from all over the world.Ram V. Sutar served in the Department of Archaeology from 1954 to 1958 as a modeller for restoration work of sculptures at Ellora and Ajanta Caves where he has restored many of the sculptures. In 1959 he decided to work as a freelance sculptor and made two sculptures for the main gate for Agriculture Fair, PragatiMaidan, New Delhi. Ram V. Sutar has exhibited his works at a number of National and International fairs in India. His bust of Mahatma Gandhi has been highly appreciated and has been selected for installation in many countries including France, Italy, Argentina, Barbados, Russia, England, Malaysia and Caracas on the occasion of Gandhi Centenary Celebrations. His sculptures are installed in different parts of India and all over the world including USA, Europe and Asian Countries. Ram V. Sutar has been honoured with many National awards. In 1999 he was awarded PADMASHREE for his contribution in the field of sculpting by the then President of India, Shri K.R. Narayanan. Received "Life Time Achievement Award" from "Bombay Art Society" given by Hon'ble Minister MukulWasnik, Ministry of Social Justic and Empowerment on 11th January, 2010.
Gulzar Dehalvi (Padma Shree)
Poet and Freedom Fighter
He was born on 7 July, 1926 in Old Delhi's GaliKashmeerian. Both his father Allam Tirbhoon Nath Zutshi "Zar" Dehlavi and mother Brij Rani Zutshi "Bezar" Dehlavi were Urdu poets. Punditji did his schooling in the Ramjasschool and BVJ Sanskrit School. He did his MA from Hindu College, and law from Law College. He also passed Adeeb Fazil and Munshi Fazil examinations of Anjuman Taraqqi Urdu Hind which was then affiliated to Punjab University. He was closely associated with Baba-e-Urdu Maulvi Abdul Haq and AllamaDatatryaKaifi.A renowned poet and celebrated journalist, Dr.Zutshi came under the influence of Mahatma Gandhi and Jawaharlal Nehru and participated in the struggle for Independence. His role in promoting Urdu and popularising it has been commendable. A defender of communal unity and harmony, he always remained in the forefront to fight against communal forced and strengthen the composite culture of India.Through his creative and intellectual efforts he has upheld the cause of national integration and set before the country a fine example of a responsible citizen.Dr.Zutshi has also been honoured with innumerable awards by the Government Padam Shree as well as private literary, social and cultural academics, institutions and organisations in India and abroad.He left politics in December 1992 and then devoted himself to art, culture, poetry, world peace and universal brotherhood with service to humanism. His services and activities in the social, literary and other national fields span a wide spectrum and he was associated with various organisations in different capacities.Having arranged, organised and attended more than 35,000 Urdu mushairas, conventions, conferences, seminars and receptions since 1943, Dr.Zutshi is a well-known figure in the literary circles who will now be enlightening Delhiites with his vast knowledge on the subject of composite culture and poetry.
Nagender Peashad Singh  (I.A.S)
Ex District Magistrate Gautam Buddh Nagar(U.P)
Presently, Nagendra Prasad Singh, posted at the post of Gautam Buddha Nagar, does not leave any shortcomings of the people in short time, and they take part in the field of social service.He has opened an industrial training institute in the nascent slab of Sonbhadra and Mirzapur, which is recognized by the government.In which around 168 children of Coal and Bhil cast are given free employment education so that they can join the mainstream of society and stand on their feet.Apart from this, he has adopted almost 200 villages.In which, by selecting 27 students from each village, they are sent to education, including Mathematics, Science and English, and they provide scholarship of Rs 10-15 thousand rupees annually.
Malini Awasth (Padam Shree)
Folk Singer
MaliniAwasthi is the Queen of folk music in India. When you think of traditional folkmusic; you think of MaliniAwasthi. Not surprisingly she is credited in bringing back these traditional forms of music to the national and International stage.
Indian folk music has been revived in a big way due to her contribution to this formof music. Malini is highly acclaimed for her "gaayiki" and her powerful performances. The world has seen her versatility in the famous music reality show "JUNOON" telecast on the channel NDTV Imagine. Singing the various forms of folk music from Benaras and Awadh like the Dadra, Sohar, Banna, Jhoola, Kajri, Holi, Chaiti, Vivaah, Dhobiya, Nirgun, etc. she showcased these different forms of folk music in her own way. Some of these forms, which are almost dying forms whensung on the stage, mesmerized the viewers and took the nation by a storm. A disciple of the Thumri proponent Padma BhushanGirija Devi Ji, today Malini is one of the leading Thumri singers of the BenarasGharana. Equally accomplished in Ghazal and Sufi gaayki, Malini reminds you of the old world charm of the beautiful Lucknow and the Ganga-Jamuni culture of Uttar Pradesh. MaliniAwasthi'ssocial initiative SON CHIRAYIA is a non profit apolitical organization to propagate and preserve the folk art forms of India under the able guidance of PadmabhushanVidushiGirija Devi ji. Its a four years old organization which has conducted grand shows showcasing the traditional folk art forms from Awadh, Bhojpur, Banaras, Bundelkhand, Braj etc. Son Chirayia has been promoting several folk art forms like 'Birha', 'Alha', 'Dhobia', 'Raai', 'Pai-danda', 'Hardaul', 'Rasiya', 'Charkula', 'Kajari', 'Fagua', 'Nautanki', 'Karma', 'Nirgun', and traditional wedding songs. Bharat Ratna, LATA MANGESHKAR jihas named Malini as one of her favourite singers. An ICCR approved artist, she has toured various countries, including the USA, UK, Holland and Mauritius. She also has a rare honour to be invited to Pakistan to render her style of Thumri, Dadra and Ghazals.
Dr. Uma Tuli (Padma Shree)
Founder, Amar Jyoti School
Uma Tuli is an Indian social worker, educationist and the founder of Amar Jyoti Charitable Trust, a Delhi based non-governmental organization, working for the rehabilitation of the physically challenged people. She was honored by the Government of India, in 2012, with the fourth highest Indian civilian award of Padma Shri.Uma Tuli was born on 3 March 1943 in New Delhi. She secured a master's degree from Jiwaji University, Gwalior and followed it with another master's degree in Special Education (MEd) from the University of Manchester. Tuli founded Amar Jyoti Charitable Trust, with the savings she accumulated from her salary as a teacher, in 1981. The institution, over the years, has grown in stature to become a single window provider of inclusive education, healthcare, vocational training, employment, sports and cultural facilities for physically disabled people. The institution has networked with Delhi University for courses in Physiotherapy, with Roehampton University for teachers' training in special education and also with Manipal University, Madhya Pradesh Bhoj Open University and Indira Gandhi National Open University.It also has a branch in Gwalior.Uma Tuli is known to be the first non bureaucrat to be appointed as the Chief Commissioner for Persons with Disability,a position she held from 2001 till 2005.
Sangram U. Singh
(Winner of WWP Heavyweight Championship)
Wrestler & Actor
Sanjeet Kumar, better known by his fight name Sangram Singh, is an Indian wrestler and actor. He has also appeared in a number of reality television shows, such as Survivor India and SachKaSaamna. Sangram was finalist of season seven of Bigg Boss in 2013. In July 2015, he won Commonwealth Heavyweight Professional Championship that was held in South Africa.Sangram Singh started his career as a sportsperson with Delhi Police in 1999. He was born as premature child, at an early age he got reuhmatic arthritis and was in a wheel chair for 8 years. His willpower to make him great wrestler and his career in wrestling took him around the world, but he was let go from the Delhi police force due to him not getting timely permission for a wrestling trip to Italy in 2007. He awarded the World's Best Professional Wrestler title by World Wrestling Professionals, South Africa in 2012 for his style, stamina and nature of wrestling. He was named brand ambassador for the Wrestling Federation of India for 2014. Sangram Singh shared Fitness mantra with Actress RaveenaTandon on her television chat show inspiring all to be healthy and fit. He is also closely working with Maneka Gandhi for Sanjay Gandhi Animal Care Centreand People For Animal (PFA) as their Brand Amabassador. Sangram Singh was felicitated for his Commonwealth Heavyweight Professional Championship victory by the honourable Prime Minister of India Shri NarendraModi in Delhi for making India Proud. HrithikRoshan and Discovery India came up with a television show HRX Heroes where stories of Real Life heroes were depicted. SangramSingh hails from Rohtak, Haryana. His parents are Umed Singh and Ramodevi. He has a brother and a sister. Born in the village of Madina Sangram fought arthiritis and got up from wheelchair to become a wrestler representing India. He also had a brief stint in Delhi Police. Sangram and actress PayalRohatgi became engaged on 27 February 2014 at a ceremony in Ahmedabad at Payal's hometown.
Sudip (PILOO) BHATTACHARYA
Music Director
Born in a family where everyone, young and old; men and women, breathe art and culture they way we breathe oxygen Sudip Bhattacharya, known more as Piloo Bhattacharya or just Piloo, found the right cradle and ambience which helped him to grow up with versatility and plethora of talents. Over the past 40 years his contributions to our society, Indian music have been immense. He, in the past 30 years and more, has promoted at least 5,000 young musical talents which otherwise would have remained un-bloomed and unknown to us. He promoted Indian folksongs in faraway countries like Venezuela in Latin America, Malaysia, Bangkok and also in neighbouring Bangladesh. As a singer, composer and music director Piloo has been more than successful. He has over 40 albums to his credit, worked for the development and promotion of various genres of Indian and Bengali music including RabindraSangeet, folk and light music. Having worked also as an actor in several television serials and a television presenter Piloo has been a successful TV host, an advertisement professional, composer and music director of many Bengali films. He has so far composed songs and sung in Bengali, Hindi and Spanish languages for the promotion of twenty seven sports and on sporting icons like Diego Maradona, Sachin Teldulkar and Saurav Ganguly. He is equally known for his commitment to his country and society he lives in. And that is why he has never been found wanting in his participation in almost every kind of social activities, awareness campaigns, literacy missions, HIV awareness programmes and in spreading anti-smoking consciousness. A firm believer in Indian philosophy and policy of PanchsheelPiloo believes that India cannot prosper without being corruption free, hundred per cent literate, empowerment of our women, peacefulness and tolerant. He has also been an advocate of human values and holds the elders of our country in highest possible esteem. That is why Piloo has composed and sung innumerable songs on our mothers, fathers, importance of family, teachers and friendship. He has composed and sung songs against terrorism, superstitions and other evils that still continue to plague our society. Most importantly, Piloo Bhattacharya has been an ardent follower and admirer of our late President APJ Abdul Kalam.

Dinesh Goyal
Industrialist
Dinesh Goyal, noted Indian publisher and humanist needs no introduction. Born in December 1960, in a noble family of Haryana, he was brought up amidst many other siblings in a traditional Indian manner. The family was focused on instilling moral values of love, truth, service and patriotism in all the children. His father, late shriKewal Ram Gupta was the founder of a publishing company, Goyal Brothers Prakashan, and was very determined about spreading education. However, young Dinesh had very lofty and noble ideas. His heart was in education. He scouted for learned and intelligent educationists, who could help meet national priorities of providing quality education for all, through the publishing of quality educational books. Dinesh Ji is a visionary. A small seed sown in the 1980's has now become a large tree. The vision of the noble Kewal Ram Ji has grown into a mighty empire. But young Dinesh knew no rest. He founded another company, GBO, as the trading unit of GBP, and other larger publishing companies. The government of India, in recognition of its excellent services has bestowed the coveted CAPAXIL award on GBO over ten times. He is a precious gem of our land. He has not only positioned Goyal Brothers Prakashan as a major publishing house, but has also ventured into exporting Indian publications to international designations. There are more than 20000 schools who are patronizing GBP publications, with GBP selling over 10 million books in India, and over 6 million books in export. Additionally, he also devotes time, energy and money towards helping the under privileged. He is also the President of the Resident Welfare Association of his area and has contributed to spreading awareness for local security, hiring of domestic helps, welfare for the stray animals, medical assistance for the under privileged and many social welfare schemes.
SONAL KALRA
Journalist, Columnist & Author
Sonal Kalra is an award winning Indian journalist, columnist and an author, presently working with Hindustan Times, India's second largest national english daily. She is a gold medallist from Indian Institute of Mass Communication from where she did her PG in Mass Com, Journalism, Advertising, Public Relations in the year 1996. Sonal is currently the editor for HT City (Delhi edition), publication's daily supplement. She also writes a popular weekly column titled A Calmer You, which appears in Sunday edition of HT City, Delhi. The column is all about witty calmness tips to beat the everyday stress. She has also previously edited a tech magazine and contributed to lifestyle publications on decor, health, wellness, fashion, food, beauty & fitness and travel. She is also a co-author of another book titled E-Government Toolkit for Developing Countries published by the United Nations. Her other awards include the Public Relations Society of India award 1996, Best Content award for National Portal by Government of India 2005 and Manthan Award for exemplary content practices 2007. In September 2011, she was awarded the prestigious Dr Sarvapalli Radhakrishnan Rashtriya Samman 2011 for contribution to media. She also received the Young Achievers Award 2011 for excellence in media by the noted communications academy Whistling Woods International. In January 2012, Sonal Kalra was conferred the Ramnath Goenka Award for Excellence in Film Journalism. The award was presented by the Hon'ble Vice President of India at a special ceremony attended by several cabinet ministers, senior journalists and eminent people, in Delhi, on 16 January 2012. Kalra also received the 'Outstanding contribution to Journalism' award 2009 from the World Punjabi Organisation, an International non-political body, for the above series. A paper authored by her on India.gov.in: India's answer to single entry portals was presented and published at the International Conference on Digital Government Research 2008, Montreal, Canada. Her notable works include the HT Power Couples series[5] where she interviewed the five most powerful couples of Indian film industry for the first time ever in their homes. The couples included Amitabh Bachchan and Jaya Bachchan, Akshay Kumar and Twinkle Khanna, Shah Rukh Khan and Gauri Khan, Saif Ali Khan and Kareena Kapoor and Abhishek Bachchan and Aishwarya Rai.
SUNIL SETHI
(Chairman "Fashion Design Council of India")
A non-profit organization, FDCI is the apex fashion council of India that is represented by over 350 designers. The Fashion Design Council of India is committed towards taking Indian fashion global by promoting the 'Business of Fashion' and has been operating for the last 11 years. FDCI regularly holds 4 annual/bi-annual events: India Fashion Week, Men's' Week (4th country in the world to host), India Couture Week (3rd country in the world to host) and Delhi Couture Week (3rd country in the world to host).
Sr. Vice President, Li & Fung (India) – Home Furnishing & Handicrafts
A US$ 20 Billion MNC, operating a sourcing network across 40 economies worldwide. Heading one of their business divisions – LTI, for their sourcing operations from India in the area of home and lifestyle products. We deal in home textiles, floor covering, handicrafts, gifts & accessories with a turnover of over 500 Crores. Head of Design Centre (LTI) – doing Product development and design with reputed designers. Member Board of Governors, National Institute of Fashion Technology (NIFT) National Institute of Fashion Technology was set up in 1986 under the aegis of the Ministry of Textiles, Government of India. It has emerged as the premier Institute of Design Management and Technology. Director, India Exposition Mart Limited, Greater Noida Expressway India Expo Center and Mart is spread over 58 acres of land comprising of Trade Marts with Exhibition &Convention Facilities and Business Center. Close to 1,000 members of the Indian Handicrafts Exporter's community are associated with this project.
Managing Director, Alliance Merchandising Company and Sunil Sethi Design Alliance
Represented the best lifestyle stores in the world for over 20 years, Alliance Merchandising was a sourcing and buying agency set-up by Sunil Sethi, operated since 1988 sourcing textile products from the region of Karur (Tamil Nadu), Panipat, Jaipur and mills from Mumbai. Under the aegis of Alliance Merchandising Company, Sunil Sethi Design Alliance teams up with designers to create textiles, handicrafts and floor coverings. Alliance has pioneered many successful India centric Promotions at Selfridges in UK, Habitat in Ireland, Coin and la Rinescente in Italy, Golf in Israel, Tsum in Moscow and The Conran Shop at London, New York, Tokyo & Paris.
Achievements and Honours
Lifetime Humanitarian Award for outstanding contribution in the world of the differently-abled by Ms. Gursharan Kaur, wife of Prime Minister Manmohan Singh – November 2010 (instituted by Tamanna).
Lifetime Achievement Award for outstanding contribution to the promotion of Exports by EPCH at the14th Export Award Function in January 2005. Sponsored by Ministry of Textiles.
Lifetime Achievement Award for his outstanding contribution to the carpet industry by the Carpet ExportPromotion Council in 2006. Sponsored by Ministry of Textiles.
Special Social Projects and Initiatives.
President of "Parivartan a Non-Profit Organization founded in 1999, a school situated in Moradabad that provides free Non-formal education to children entrapped in child labour. Over 100 students study in the school and join mainstream education thereafter. Parivartan has recently constructed the infrastructure for
Nursery &Primary students at the Vidya Mandir Secondary School, Kushak Lane, New Delhi. A fifty year old school inaugurated by Late Pandit Jawahar Lal Nehru.
Satendra Singh
Environmentalist & Social Service
Satendra Singh (born on 11 November 1970) is an Indian social activist working on various crucial social and environmental issues raised by Men and Women facing injustice in India. He is an alumnus of Christ Church College Kanpur U.P. India.
Satendra Singh is the founder member of the 15 years old people's movement called "Clean, Green, Healthy and Educated India" Movements in three states: Uttar Pradesh, Delhi and NCR. "Clean, Green, Healthy and Educated India" Movements has been engaged in a struggle for environment for the people affected by the pollution. Especially those who are suffering from asthma, heart disease, cholesterol, high BP or any other disease. He is also one of the founders of the Utthan Samiti (A Ray of Hope), an alliance of hundreds of progressive people's organisations. In addition to the above, Satendra Singh did a thorough research on the environmental, social, political and environmental aspects and impacts of the development of hazardous industries globally and their alternatives. He was the national co-ordinator and then convenor of "Clean, Green, Healthy and Educated India" Movements till date and now continues to be a chairman to Utthan Samiti. Under the banner of Utthan Samiti He has participated in and supported various mass struggles across India for Clean, Green and Healthy environment. His work challenges Environmental issues and all kinds of discrimination.
Achievements and Honours
Social Impact Award
Awarded by the Chartered Accountants of India(ICAI)
Received Shining Diamond Award in Kalam
Awarded as "Clean, Green, Promotion 2017 Award"
Awarded by B.S.F. on Wagha Border for boosting moral of our soldiers
Dr. APJ Abdual Kalam Award- 2015
Receiving Award from Purvanchal Bhojpuri Mahasabha
Recognition
Clean, Green Delhi Promotion Award
Krantidhara Sahitya Ratn Samman
Small Business awards By Times Group
Himmat Singh
Fashion Designer
Himmatsingh is a veteran Fashion Catalyst with 23 years of vast and innovative experience which helped himstand out in the fashion Industry. The biggest value adds is the Royal touch in his designs and the conscious effort to keep our culture alive and distinguished. He was born  on 14-January-1979, in Jaipur, Rajasthan. His actual name is Himmat Singh Panwar. He completed his B.com from Jaipur in 2000 & after that he joined Academy of Fashion Technology, Jaipur to complete his Diploma in Fashion Designing. He is designer of many Royal Families like – Qatar Royal family, Chennai Royal family, Prince Lakshya Raj Singh Mewar (Udaipur), Prince Shiv Raj Singh (Jodhpur), Prince Vijeet Singh and Prince Devraj Singh (Jaipur), Princess Siddhi Kumari, Bikaner.He has designed for various ceremonies & events like- Ceremonial dresses Hiroshima Asian Games-1994 (Hiroshima- Japan), Ceremonial dresses- Athens Olympics-2004 (Athens- Greece),etc. He designed for hospitality industries like – Uniform designing for Taj Group of Hotels: Hotel Rambagh Palace, Jaipur; Hotel Jai Mahal Palace, Jaipur; Hotel TajLands End, Mumbai, etc. He designed for Film & Television industry like – Kapil Sharma, Comedy Nights with Kapil, ShilpaShetty, Mika Singh and Kapil Sharma, IIFA Awards, 2015, etc. He also designed for many Celebrities, Politicians & Influencers like – Late. Sh. Bhairon Singh Shekhawat, Former Vice-President of India, Sh. Rajeev Shukla, Former Sports Minister of India, etc. He is patron of many fashion shows, Fairs & exhibitions. He is a member of Member, Fashion Design Council of India since 2008 &Member of Apparel Export Promotion Council since 2009. Himmat Singh is a designer who does not just claim to design royalty but actually caters to a clientele that is the true royalty of India. Among others one of the most special clients is His Highness' Maharaja of Mewar, ShrijiArvind Singh JiMewar. They both share a deep bond that has come from their fondness for similar clothing. The Maharaja considers Himmat Singh as a dear friend and to show this affection he has decided to precide over Himmat Singh's Fashion Show and honour him by being the guest of honour. His collection focuses on how every modern silhouette can be twisted to fit any man or woman. He combines the beauty of the human essence with the uniqueness in style and grace.Himmat Singh started his label 'Studio Himmat" in March 2000, showcasing special garments with superior handwork & craftsmanship with interesting cuts, contemporary styling and innovative fabrics.He defines a true picture of the Prince and Maharaja through his creative collection.
Sulakshana Monga
Fashion Designer
Born on 19th August 1966 in desert town of Bikaner,
Sulakshana entered the field of design 21 years ago.Without any formal education, she started her first design sojourn in Delhi's HauzKhas Village with a mere 5 workers, she had hardwork, determination and dedication by her side. Today, with more than 400 skilled workers, Sulakshana is a brand driven and is inspired by the charismatic Rajasthan. Her palette boasts of western sensibility, combined with indepth knowledge of embroideries, as she works in direct contact with the craftsmen. She has been part of various fashion events in India and abroad.
Vijaypal Baghel
President – "Paryawaran Sachetak Samiti"
Vijaypal Baghel born on 20 February, 1967 in Hathras district of Uttar Pradesh is an environmental activist. He is known for his efforts in protecting environment at grass root level through traditional methods. He is a prominent campaigner on behalf of mission as Jhola Movement for fighting against polythene across India, first planter of divine tree Kalpavriksha's (Adansonia digitata) at all famous pilgrims of around the world, worshiper of nature & lead promoter of spiritual/ religious/ herbal/medicinal/environmental values having species of flora. He devoted his life to conserve nature, save water, green resolution, reduce pollution and stop global warming with the theme of 'Think globally-Act locally', peoples are called him Greenman. His vision is'Think Globally -Act Locally' to conserve nature and social changes. He participated in various summits/ conferences/ workshops/ seminars/ events etc. as a Global Climate Leader. UNESCO has also recognized and identified his contribution in the field of Ecology and Environment and has put all activities of "Paryawaran Sachetak samiti" on its official website for South East Asian region. He is a member ofRamsar Convention Network (RCN), Switzerland, World Environment Day committee, Edison Youth Environmental International Society & Earth Day Network, etc.NCERT honour the activities of Mr. Baghel by way of incorporable him in the syllabus of class 8th class where a lesson/chapter as biography 'People who made the deference' is there in the book of Social science.UP government has dedicated a wetland named after him as of "Baghel wetland" at Shravasti District (UP) it's a Prominent wetland in Uttar Pradesh namely as 'Baghel Wetland'. He founded "Paryawaran Sachetak Dal" which later renamed as "Paryawaran Sachetak Samiti" and developed a team of more than 65,000 strong Paryawaran Sachetak volunteers in whole of world.
Himadrish Suwan
Young Achiever in Clean India Campaign
Himadrish Suwan, a first year student of Delhi University (ShaheedBhagat Singh College) pursuing Political Science Honours. A regular Columnist & Citizen Journalist for various registered magazines of Government of India including Lawyers Update, Just IN Print, Youth KI Awaaz , Indian Exponent, The Global Times & a Registered author at the Indian Exponent. He was awarded 1st Prize at Global Media Summit 2013 in article writing Competition. Well acquainted as an RTI activist, since from his school days he had filed more than 100 RTI's.With the help of his RTI's, 16 coaches of Ranchi-New Delhi RajdhaniExperess got changed; earlier it was an ICF coaches which is actually not meant for Rajdhani Express but with the help of RTI it could be possible change to LHB Coaches which is actually meant for Rajdhani's. IN 2013 he also got the 'Global Award for Excellence 2013' in the field of Social Work and Youth Empowerment. Recently On 5th of October on the occasion of World Teacher Day -United Nations, The International Association for World Peace(Affiliated to United Nations-ECOSOC,UNICEF,UNESCO,UNICED,DPI) & THE CONFEDERATION OF INDIAN UNIVERSITIES(The National Platform of all Universities of India) has awarded him the youngest INTERNATIONAL AWARD to him the-YOUNG ACHIEVERS AWARD For Information Activism in the area of Media & Information Activism. He is the youngest person to receive this International Distinction from IAEWP (Affiliated to United Nations ECOSOSC,UNICEF,UNCED,UNESCO, and DPI) & CIU at an age of 17.
Nikhil Thukral
International Young Fashion Designer
Nikhil Thukral (son of LalitThukral), the gen-next talent and the new face of the company. A graduate from the National Institute of Fashion Technology and the Joint secretary of Fashion Design Promotion Council (Sponsored by the govt. of India) has further taken the company to new heights by adding the latest technologies and working closely with the customers to become an extended team player, being proactive in approach and achieving the required product.
Yogendra Jha
Social Activist
YogendraJha, aged 48 years, has done M.A. in Sociology and Diploma in Labour Laws. He started his career as lecturer in an Inter College at Deoghar where he taught for around eight years and went on to work as an Assistant Director in the Employees' Provident Fund Organization (EPFO), Ministry of Labour, Govt. of India for twelve years. During his service in the EPFO, he conducted several studies for rickshaw pullers, barbers and bidi rollers on social security related issues. It was during the course of these studies that he got to work closely with laborers especially rickshaw pullers in Delhi and was moved by their sad plight. In 2004 he started working with them and helped form twenty self-help groups for rickshaw pullers and maids. Later on he started teaching slum children on weekends. These classes were mostly held in temples and public places and went on like till 2007. In 2008 he founded Center for Social Security Action & Research (CSSAR) and in the same year quit his job to work full time for CSSAR and devote all his focus and energy to the group. He envisions a society where every child gets proper education irrespective of social and financial background.
Dr. Sukhdev Kumar

Managing director, Indogulf Hospital, Noida
Dr. Sukhdev Kumar was born on 1 January 1952. His Father name is Darshanram. Dr. Sukhdev Kumar received MBBS degree from Government Medical College, Amritsar, Punjab in 1972. After that from Australia he received his MAMS degree from the capital city of Vienna. r. Sukhdev served as a Resident Chikista Officer from 1980 to 1981 in Abu Dhabi in the UAE and from 1982 to 1984 in the city of Basra in Iraq and as a Casualty Chikista Officer from 1985 to 1987, Batra Hospital, Jalandhar, Punjab Served in.     Dr. Sukhdev Kumar is currently the Managing Director of Indogulf Hospital, Noida. Before this he is also work in different companies and organization as a managing director. The important thing is he is always ready to do free treatment of poor people.
Labhanshu Sharma
National Bravery Award winners 2015
Labhanshu Sharma born on 27 August 1998 in in a Brahmin family in Rishikesh district of Uttarakhand state. His Father name is Suresh Chand and his Mother name is Arti Devi. There is an emerging talent in the area of ​​the Wrestling and he is also national level medalist wrestler, Labhanshu is also a champion of wrestling. In Rishikesh Labhanshu can save two people who is drowing in river Ganga, For which he was awarded by the President's War of Honour by the Prime Minister of India Narendra Modi ji and the President of India Shree Pranab Mukharjee ji. Labhanshu is also nominated for 2016 President Jeevan Rakshak Medal. Uttarakhand Chief Minister Shri Harish Rawat will confer the National Youth Icon Award in February to honour Labhanshu.
K.Kabilan
Young scientist
K.Kabilan was born on 14 july 1995 in Erode district of Tamil nadu. He is an Emerging young scientist who has so far received more than 32 awards. He has so far received 32 prizes on Paper Presentation, 4 on Projects Presentation and 3 Prizes on Poster Presentation. He has so far participated in 5 national workshops in various colleges and international organizations and has submitted his 4 projects on controlling brain wave using embedded system. He mainly aware students and as well as public because he believe that students are future of our India. He has received nearly 65 result letters by the various institutions as a participant and winner.
Sahu Shri Akhilesh Jain
Managing Trustee
Business Administration In Delhi. He Has Been Devoting Most of His Time to Various Educational, Social and Religious Activities. Out Of The Many Philanthropic Activities With Various Organizations, The Most Notable Among Them Are Being The Managing Trustee Of Bharatiya Jnanpith. He Is Currently Holding The Following Positions : –
Managing Trustee
Bharatiya Jnanpith
Sahu Jain Trust
Sahu Ramesh Chandra Jain Trust
President
Sahu Jain Group Of Colleges, NBD
Kund Kund Bharati
Executive President
All India Digamber Jain Parishad
Vice President
Inland Importers & Consumers Association
Director
Sahu Jain Limited
All India Heart Foundation & National Heart Institute
Honourable Member
Vegetarian Society Of India
Bharatvarshiya Digamber Jain Tirthakshetra Committee
Trustee
Sri Dhawalathraya Jain Kashi Trust (Regd.) Moodbidri, Karnataka
Ashok Jain Charitable Trust
Richa Anirudh
Indian television journalist and anchor
Richa Anirudh is an Indian television journalist and anchor. She is one of the most popular television personality in India and she widely appears in various media event and television programmes. Currently, she is currently working for IBN 7 as a news anchor and as a radio show host for BIG FM. Richa Anirudh was born on May 31, 1975. The Indian couple Harish Badal(father) and Rekha Badal(mother) gave birth to Richa in Rewa, Madhya Pradesh, India. Her father was a doctor and her mother was a housekeeper.  She seems like a single child as there is no information about her siblings. As regards Richa's academic qualifications, she is a graduate of Bipin Behari Degree College. In addition, she  also holds a master's diploma in computer software development. She received her school education from St. Francis Convent after her admission in 1981. And, for her high school education, she joined Christ The King College in Jhansi.