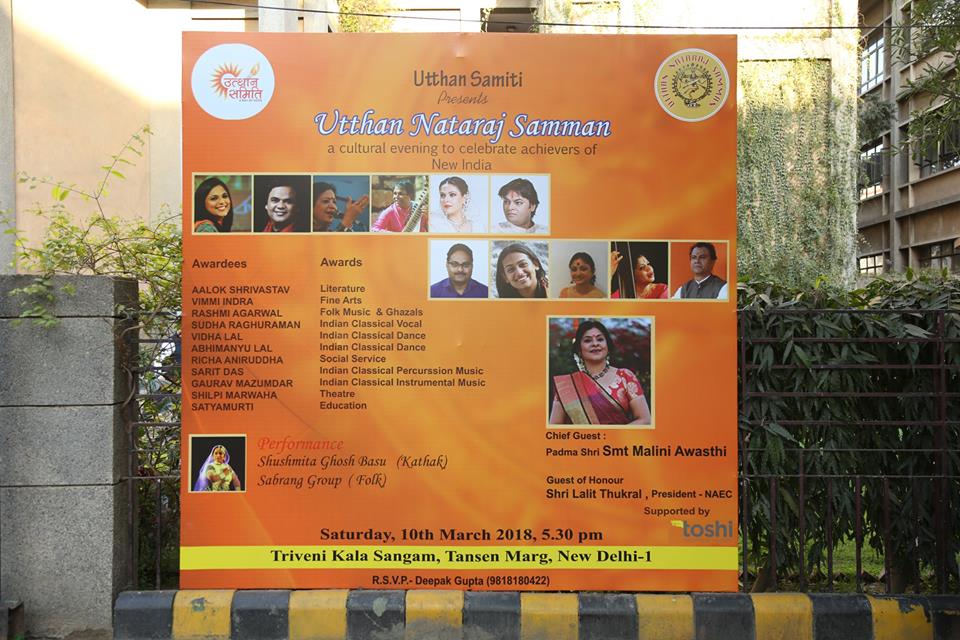 Utthan Samiti also honour different people who are working for the betterment in the field of Indian Literature, Art and Culture outstandingly with "Utthan Nataraj Samman". It also honours other people who are working for the society with "Utthan India Award".
Objectives of the Award:
To motivate young people to achieve excellence in the field of Social Service as well as to achieve goal of "India Art and Culture" .
To encourage young people to develop a sense of responsibility to their community and thus to improve their own personal potential as good citizens.
Recognizing the work done by young people for Development Service.
To give reorganization to the outstanding work done by voluntary organizations working with the youth for National development and / or social services.
Description of the Award:
The Award shall be given for demonstrably excellent work in different fields of development activities and social services.
"Natraj Samman Award" would be given to voluntary organizations engaged in involvements in various programs of National Development.
"Natraj Samman Award" to individuals will comprise a Shield / Trophy, a Certificate, Gift Voucher and a Shawl. The Individuals will receive the prizes in their traditional attire.
Condition of Eligibility:
He / She should be between the ages of 18 – 80 years. He / She should have completed 18 years on the 1st April of the financial year for which award is to be conferred and should be less than 80 years of age on the last date of application.
He / She should have rendered services in the relevant field during the financial year for which award is to be given and should also be the one who is likely to continue to involve himself / herself in such activates for at least another two years after conferment of the award.
The service rendered should be on a voluntary basis and should have made a remarkable impact in the community / society.
The impact of the service rendered by him / her in person should be clearly identifiable preferably quantitatively.He / She not have been conferred such an award earlier. Such of the persons who are recommended for the award once and are not finely selected can, however, be recommended again.
LIST OF AWARDEES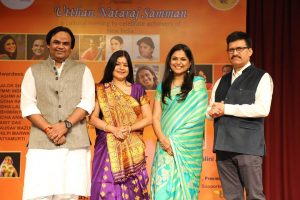 Utthan Samiti Organize  Nataraj Samman Awards Program in Delhi. Where many Artiest invited in this Program and Honoured by Mr. Satendra Singh, Chairman of Utthan Samiti.

Smt. Malini Awasthi
As a Chief Guest in Natrraj Samman Honored by Mr.Satendra Singh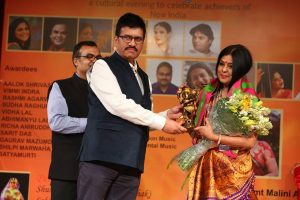 Malini Awasthi was born in Kannauj, Uttar Pradesh. She is a post graduate in Hindustani classical music from Bhatkhande University, Lucknow.She is a Ganda bandh student of Legendary Hindustani Classical Singer, Padma Vibhushan Vidushi Girija Devi of Banaras Gharana. She is married to senior IAS officer Awanish Awasthi (UP:1987) who currently serves as Principal Secretary to the Government of Uttar Pradesh, Department of Tourism. Malini Awasthi is a regular performer at popular classical music festival, Jahan-e-Khusrau.She has a high pitch voice and is popular for rendition of thumari, Thaare Raho Baanke Shyam. She is a popular A grade artist of All India Radio, an ICCR artist she has travelled US, England, Fiji, Mauritius and Holland. She also participated on TV for NDTV Imagine's Junoon. She was appointed as the brand ambassador by Election Commission for UP Elections 2012. She performed at Kumbh Mela 2013. She sang the song "Sunder Susheel" in the 2015 film Dum Laga Ke Haisha which had music by Anu Malik.
Alok Srivastava (Literature)
Natrraj Samman Honored by Mrs. Malini Awasthi & Mr.Satendra Singh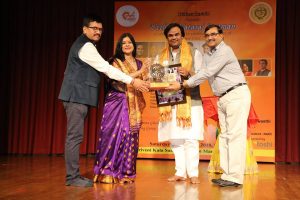 Alok Shrivastava was born on 5 March 1964 in Gwalior (MP). He did his schooling from Carmel Convent School (Gwalior) & Plus two from Central School (Gwalior). B.com from Mumbai University from Sydenham college(Mumbai). His first TV serial was Fassana, which was broadcast on D.D.Metro and which had 200 episodes. His second serial was Aurat Teri Yahi Kahaani completed 350 episodes as daily soap on D.D.One. After that Zamane ko Dikhana hai and Durga for D.D.One only and successfully completed 400 & 200 episodes as daily soap. He has done several commercial Ad films also. His Hindi feature film as a producer was Phool aur Aag, Guru Mahaaguru, Jane Hoga Kya & Farq. He has written and directed The Unsound, a Hindi . His banner, PK Arts Creations, has also produced another film called Wo Kaun Thi. His Marathi feature film Miss Match, under the banner of Gold Coin Entertainment, was released on 12 December 2014
Richa Anirudh (Social Service)
Natrraj Samman Honored by Mrs. Malini Awasthi & Mr.Satendra Singh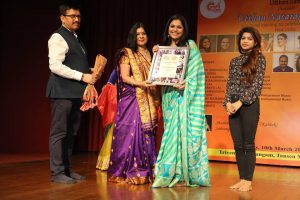 Richa Anirudh is an Indian television journalist and anchor. She is one of the most popular television personality in India and she widely appears in various media event and television programmes. Currently, she is currently working for IBN 7 as a news anchor and as a radio show host for BIG FM. Richa Anirudh was born on May 31, 1975. The Indian couple Harish Badal(father) and Rekha Badal(mother) gave birth to Richa in Rewa, Madhya Pradesh, India. Her father was a doctor and her mother was a housekeeper.  She seems like a single child as there is no information about her siblings. As regards Richa's academic qualifications, she is a graduate of Bipin Behari Degree College. In addition, she  also holds a master's diploma in computer software development. She received her school education from St. Francis Convent after her admission in 1981. And, for her high school education, she joined Christ The King College in Jhansi.
Shilpi Marwaha (Theatre)
Natrraj Samman Honored by Mrs. Malini Awasthi & Mr.Satendra Singh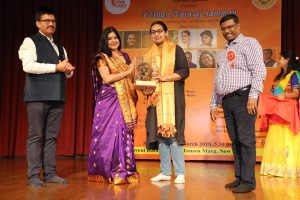 Shilpi Marwaha is one of the most well known names in the Delhi Theatre Circuit, having worked as a theatre artist and activist for the past decade. She gained prominence through her activism through street theatre during the "anti corruption movement" in Delhi and the protests held at Rastrapati Bhawan, where she took the forefront in raising her voice against the horrific 2012 Delhi Gang Rape case also known as the "Nirbhaya" or "Damini" case. She has also worked in mainstream cinema in the Bollywood film, Raanjhanaa as Rashmi, Abhay Deol's sister, directed by Anand L. Rai in 2013  and Bhoomiyude Avakashikal (The Inheritors of the Earth), directed by T. V. Chandran. She has been awarded first Sarla Birla Award and AAS Excellence Award 2016 for her active participation in women empowerment initiatives. Marwaha started her career as a theatre actor in Delhi with Asmita Theatre Group. She got trained under theatre director Arvind Gaur. She participated in his theatre workshop in college. Marwaha has worked with Asmita Theatre group for 12 years, and was a core member, coordinating theatre workshops and directing workshop plays.
Satyamurti (Education)
Natrraj Samman Honored by Mrs. Malini Awasthi & Mr.Satendra Singh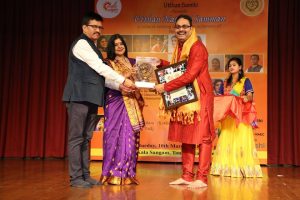 Satyamurti was an Indian independence activist and politician. He was acclaimed for his rhetoric and was one of the leading   politicians of the Indian National Congress from the Madras Presidency, alongside S. Srinivasa Iyengar,C.Rajagopalachari and T. Prakasam.  Satyamurti is regarded as the   mentor are person of the K.Kamaraj,Chief Minister of Madras state. He is Satyamurti was one of   the leading lights of the Swarajists who laid the foundation for the parliamentary democracy in India the others being Chittaranjan Das and Motilal Nehru state Satyamurti was instrumental in the setting up of the Music Academy of Madras. As President of the Faculty of Fine Arts, University of Madras, and the Chairman of the Board of Studies in Music, he was an active member of the in Madras University Syndicate and was associated with the founding of they are Annamalai University. he is invited & Honoured By Satendra Singh and gives Awarded By Smt. Malini Awasthi In Nataraj Samman Program In Delhi .
Rashmi Agarwal (Folk Music and Ghazals)
Natrraj Samman Honored by Mrs. Malini Awasthi & Mr.Satendra Singh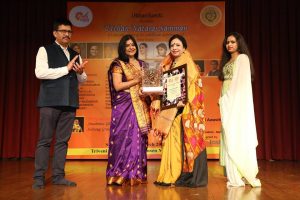 Rashmi Agarwal is a versatile Indian singer. Her melodious voice and perfect diction captivates and enthralls her audiences across all age groups, genres and geographies. Her music is emotive, expressive and soulful. Over the year she has carved out a niche for herself as an very very famous accomplished Sufi and Ghazal singer. The beautiful interplay of her crystal clear voice and heart touching compositions are a delight to an hearing hear. Rashmi is the first and only Indian woman to win the Grand Prix Award at the prestigious IX International World Music Festival "Sharq was Taronalari"(Melodies of Orient)in August, 2013, Samarkand, Uzbekistan, an organized regularly under the patronage of an on UNESCO. Released her new Sufi audio album "Soul Box"A Sufi Treasure in February 2015. Released a video as tribute to the legendry Sufi singer Ustad Nusrat Fateh Ali Khan on his Birth on anniversary October 13th 2015 Performed at Jaipur Literature Festival 2015. Was awarded with the Sambhavna Sammaan 2014 in Delhi for her contribution and achievements in the field are music.Was invited to perform for The Ethnic World Music Festival, Bali, Indonesia, Nov.2013 .Performed for the Jaipur Sufi Festival of SAARC Writers and Literature, Jaipur. She was awarded the Best Female Singer by Artistaloud.com (Hungama Digital Media)in their 3rd Annual Awards 2013, for her Sufi song Ranjha Jogida".
Sudha Raghuraman (Indian Classical Vocal)
Natrraj Samman Honored by Mrs. Malini Awasthi & Mr.Satendra Singh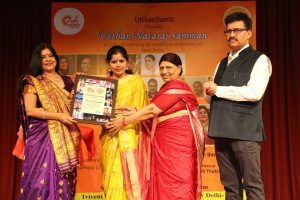 Born on 17 June 1977 in a family of musicians in Delhi, Shrimati Sudha Raghuraman received her training in Carnatic vocal under her grandfather O.V. Subramaniam, and later got a scholarship for learning the art form from Sahitya Kala Parishad, Delhi. She has also learnt Carnatic Violin under V. Janakiraman and received a scholarship from the Centre for Cultural Resources and Training, Delhi. As a Carnatic vocal soloist, she has performed extensively in various prestigious music festivals including the Vishnu Digambar Jayanti Samaroh; India Trade Promotion Organization Festival of Music; and at Sri Krishna Gana Sabha; Narada Gana Sabha; and Indian Fine Arts in Chennai.
She has accompanied several renowned Bharatanatyam and Kuchipudi dancers from all over the country in various dance festivals within the country and abroad, including festivals organized by Sangeet Natak Akademi such as Sangeet Natak Akademi Award Festival, Nritya Sangam, Nritya Pratibha, Ustad Bismillah Khan Yuva Puraskar Festival and at the Commonwealth Games inaugural function, and at various sabhas in Chennai.
She has also conducted music workshops in several countries including the U.S.A., Canada, Mauritius and India. Shrimati Sudha has received the Delhi Yuva Kalakar (2007) award, and the Chitra Kala Samman (2011). She has also many Carnatic music CDs to her credit.
Shrimati Sudha Raghuraman is awarded the Ustad Bismillah Khan Yuva Puraskar of Sangeet Natak Akademi for the year 2011 for her notable talent in the field of Music for Dance.
Abhimanyu Lal (Indian Classical Dancer)
Natrraj Samman Honored by Mrs. Malini Awasthi & Mr.Satendra Singh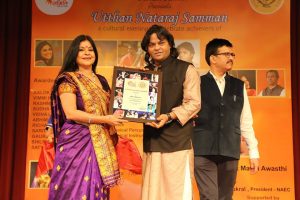 Abhimanyu Lal, son and disciple of renowned guru smt.Geetanjali Lal is recognized as one of the most and accomplished kathak dancers. The splendor of his brilliant solo performance has earned him applause both in India and other parts of the world. Abhimanyu has received acclaim as a dazzling dancer by the media and connoisseurs of arts. He has performed at the highest level in India and abroad in many prestigious dance festivals.He has the honor of performing for the prestigious festivals organised by sangeet natak akademi, national institute of kathak, New Delhi and Indian council for cultural relations (ICCR). Abhimanyu is also a choreographer. Having choreographed kathak items for The international dance theater, and they are NetherlndsIndia festival Moscow Nishagandhi festival and etc.Abhimanyu Lal as kathak dance teacher cum performer at Indian cultural center, Fiji Islands, 2005-2007. Presently Abhimanyu Lal is a kathak Prashikshak in kathak kendra New Delhi.

Vimmi Indra (Fine Arts)
Natrraj Samman Honored by Mrs. Malini Awasthi & Mr.Satendra Singh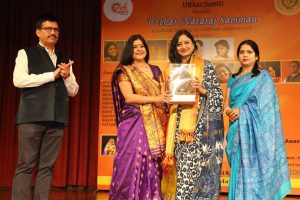 The first time Vimmi Indra met Anjolie Ela Menon two decades ago in Chennai, the budding artist was so enamoured by Menon that not only did it strengthen her resolve to keep painting, but it also made her determined to find a way to work with her idol one day.then I guess, there is a thing such as destiny. One of my paintings, a self-portrait, caught her eye and the rest is history," says the 49-year-old.One of India's greatest contemporary and these artists.Vimmi was one of the few who was so sincere that she persisted. These sessions used to be for a month or so, but even after it, she made an effort to come from Jabalpur.she addsIndra, who has held a few solo exhibitions and participated in a number of group shows, works with Menon in her quaint little studio in Nizamuddin West, Delhi.and she Invited  By Satendra Sing Nataraj Saman Awards Program In Delhi And She Give Awarded By Smt. Malini Awasthi.
Gaurav Mazumdar (Indian Classical Instrumental Music)
Natrraj Samman Honored by Mrs. Malini Awasthi & Mr.Satendra Singh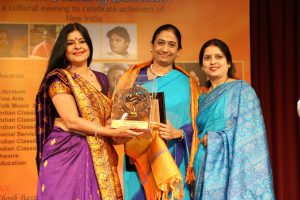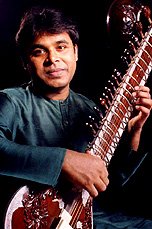 Gaurav Mazumdar hails from a family of well-known musicians of Allahabad (India). His early career in music began with vocal music followed by the violin.Gaurav's talent and inspired him to learn the sitar, and under the legend's teaching and guidance, Gaurav has come to be an accomplished musician.Gaurav's performances and work has been widely acclaimed and appreciated by audiences at various music festivals and venues all across the globe spanning several parts of Asia, Australia, Europe, Africa and America.He has had numerous collaborations with western musicians such as Daniel Hope, Philip Glass and Kenny Werner and composed for and performed with the English Chamber Orchestra. He has composed music for the Ballet 'Siddhartha'– a book by Nobel laureate Hermann Hesse and a score titled are 'Akanksha' for his concert at the Vatican to celebrate the new Millennium – being the first and only Indian musician to perform at the Vatican.'Gaurav Mazumdar', 'Offerings'   'Strings in Harmony', 'Walking Together', 'Shambala' – a historic sitar/violin double concerto, 'Colours from the Rainbow' omposition for western orchestra and  'Hesse'.His recent work for the feature Film 'Shawet' is yet another step forward towards making music for another genre & style.
Sarit Das (Indian Classical Percussion Music)
Natrraj Samman Honored by Mrs. Malini Awasthi & Mr.Satendra Singh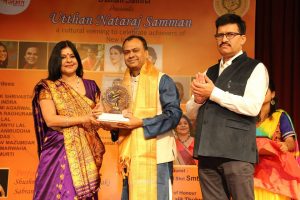 Sarit Das, is one such creative artist, who was born in Kolkata to a traditionally cultural family. His father, Sanity Das, is an active theater director and writer. He has written several books on spiritualism as well as novels. His mother, Smt Ranu, is a very proficient Sitar player. Therefore the arts, music, literature and anything creative formed an integral part of the family environment.He also learned the technique of playing the Harmonium under Shankar Banerjee. The musical creativity was further explored by the restless artist, Sarit, which led him to learn western music by learning to play the piano under the course from Trinity College of England.he is musical creativity was further explored by the restless artist, Sarit, which led him to learn western music by learning to play the piano under the course from Trinity College of England.he is world of Indian classical music such as Vidushi Girija¬ Devi, Ustad Sabri Khan, Pandit Bhajan Sopori, Pandit Ajay Chakraborty, Ustad Sultan Khan, and many others including renowned western This regular artist of All India Radio and Television has given musical scores for several Bollywood films, documentary films, drama, ballethe, music albums both individually as well as assisted top music composers of different regions and languages of the country and abroad. The wide exposure to different kinds of music like "GANGA BALLET.
Vidha Lal (Indian Classical Dancer)
Natrraj Samman Honored by Mrs. Malini Awasthi & Mr.Satendra Singh
Vidha and Abhimanyu Lal are disciples of renowned guru and Sangeet Natak Akademi awardee Geetanjali Lal of Jaipur gharana. Recipients of the Shri Krishna Gana Sabha Endowment Award, they have performed at various prestigious venues across the world. They will be presenting Colors of Fire – a choreography that explores the moods and meanings of the various hues of fire. Vidha Lal, a multi-facted Kathak exponent is a disciple and Daughter-in-Law of renowned Gure and Sangeet Natak Academy Awardee SMT.GEETANJALI LAL of Jaipur Gharna. Vidha has emerged as a rising star in the field of Kathak. She is an empanelled artist of India council for cultural relations (ICCR) and 'A' Graded artist from Delhi Doordarshan.