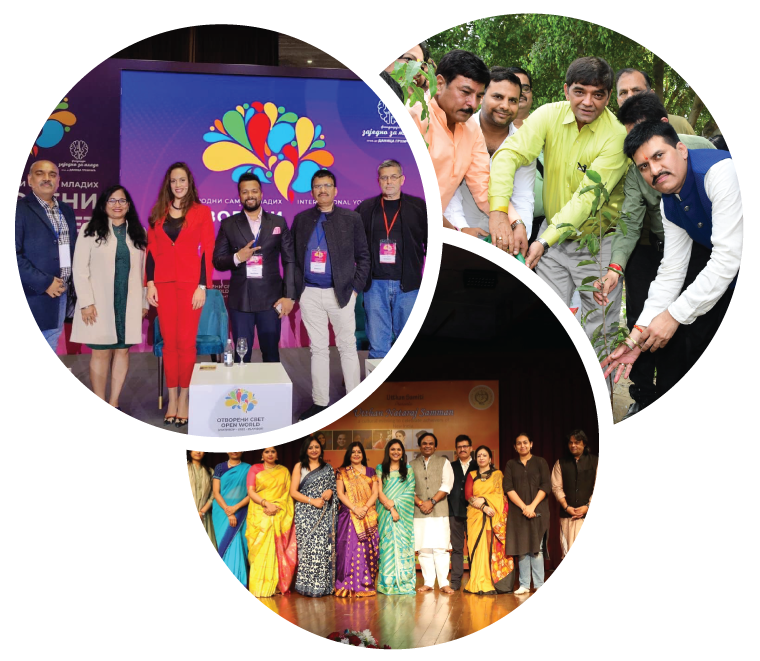 Utthan Samiti (A Ray of Hope) is a socio-cultural organization and a non-profit society. It was founded by the objective to ensure a cultural, clean, green and healthy India. The organization aims to restore human rights and dignity for the underprivileged section of the society, work for the welfare of the downtrodden, and also work towards a cultural, cleaner, healthier environment. In order to carry out various social and cultural programs, it performs many functions including musical and cultural events, motivation, education, and spread of awareness, planning, designing, estimating, implementation, maintenance and follow-up.
Utthan Samiti is a charitable and philanthropic organisation trying to fulfil the dream of Mahatma Gandhi and achieve the Swatch Bharat goals, as envisioned by our honourable Prime Minister, Narendra Modi.
We are passing through a moment when the ideals and events of our National Movement seem to be fading from public memory. It is a happy feeling that every year a yearlong celebration has been planned to celebrate the vision of Mahatma Gandhi throughout the country.
A man of true words, a great leader, and a true fighter who set an example of simple living and high thinking for us. Non-violence, Truth, Inspiration, and outstanding leadership qualities are what comes to our mind when we hear his name. Mahatma Gandhi's ideas on simplicity and nonviolence interlock within a larger framework for human action.
His advocacy of material simplicity and non-harm emerges from a love for the world, aids the pursuit of happiness, and calls for a new economic order based on contentment rather than growth. And all of it holds high importance in today's contemporary world. His stress-free life was the key to his strength. He meditated regularly and prayed for long hours. He continued leading a simple life with fewer distractions and commitments. His life is a great teacher for the generations as it teaches innovation of ideas, truth, cleanliness, simplicity, detailing, continuous learning and sacrifice as essential aspects of leading an ideal life.
TO PROMOTE INDIAN ART, CULTURE AND ARTISTS
The Utthan Samiti understands the intrinsic values culture provides along with its significant social and economic benefits. Our organisation never misses an opportunity to promote and celebrate our diverse culture and appreciate the artists.
If art is to nourish the roots of our culture, society must set the artist free to follow his vision wherever it takes him. The Utthan Samiti organised one such event to promote India's art culture and artists.
Mr Satendra Singh, on the aim behind the event, says, 'Culture enhances our quality of life and increases overall well-being for both individuals and communities.'