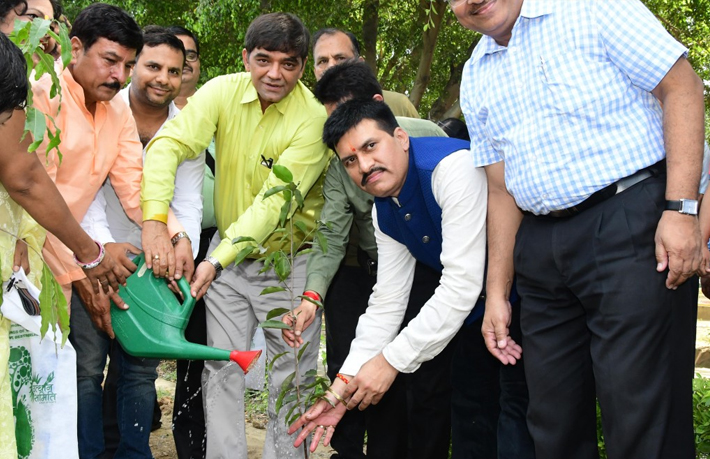 Utthan Samiti– A ray of hope has launched its campaign 'Clean, Green and Educated India' with a vision to make India a country without poverty, illiteracy, disease, and pollution.
The campaign was started by the head of Utthan Samiti, Mr Satendra Singh in association with various schools and colleges of India.
Mr Satendra Singh an environmentalist on the idea behind this campaign said, 'the aim of this campaign is to make more people aware of the need to make our country educated and our environment clean.'
India is a country that has been poverty-stricken for ages and only educating the kids can eradicate poverty from the nation. Education will curb pollution by making people aware. Pollution has been a leading problem in today's world and India's many cities come under the top 10 most polluted place in the world, doesn't it indicate how vulnerable our environment is? And living in a polluted environment will never end up in having good health.
Utthan Samiti has taken a big step towards making the country pollution free and educating every child so that this country will no longer have to strive for food and shelter.
We believe that children are the future of our country. Today's child will be tomorrow's youth. The power of the country lies in the capability of its youth. We are doing our best to make society aware of the consequences of illiteracy and trying our level best to create a change in the mindset of people.
Mr Satendra Singh on including children in the campaign said 'I believe that a child in his growing age is so innocent as well as sharp, inculcating a good thought and a good objective in them will not only make them sensible but will also bring about a big impact on the society as they grow up tomorrow. They are building blocks of a nation.'
If a kid is made aware of the environment if he told how to curb pollution if he is asked to plant trees and he is told about the benefits of doing so. We believe that he will not only step forward doing so but will also make his family do the same. That's the strength a kid possesses.
Clean India– Students were seen participating in a large number filled with zeal and enthusiasm to bring about a change in society. They were so moved by knowing the purpose of this campaign that they all took an oath to plant as many trees as they can and will always take adequate care of those trees. they also assured that they will keep their surrounding clean and every natural resource around them clean.
The Utthan Samiti has pledged to organise various drives under this campaign in the coming future.
Mr Satendra Singh said we will conduct various cleanliness drive along the riverbanks and ponds, tree plantation programs, conduct awareness programs in various educational institutions and etc.
Further explaining about the terms included in 'Green, Green and Educated India' he said-
Green India – the term simply indicates making the country greener, which can only be done by planting trees. awareness can be drawn by making children participate in different competitions like G.K, drawing competitions. Making them aware of planting trees and encourage them to plant more and more trees. by making them understand the importance of plantation, the benefits of doing so and motivate them to do their bit for the cause.
Healthy India – by organising free health check-up camps in slum areas and by organising blood donation camp we can make people aware of the importance of living a healthy life. Making children aware and simultaneously their family aware by organising G.K and drawing competitions among them. Making them aware of sanitation and encourage them for cleanliness. This will inculcate a competitive spirit in students, also awarding them with mementoes and certificates will boost them to do more good things. To teach children about the importance of sanitation and to tell them that a clean body is a healthy body and ask them to encourage other people to keep their surroundings clean
Educated India – If we want to make people aware of cleanliness, greenery and health then we first need to make them educated. Making children aware by organising G.K. and Drawing competitions among them. To broaden the horizon of your thoughts, views & opinions, one must get educated. Education is required to make society civilized. Education opens your eyes to how the world works & how to face drastic negative social situations. It provides more awareness about a healthy lifestyle.
The Utthan Samiti has been successful in organising the campaign with the help of its members, teachers and principal of the school and all other people who have helped in organising the campaign and making it happen' says Mr Satendra Singh.
We all can make India a better place to live in if we come together and make our bit towards making it happen.