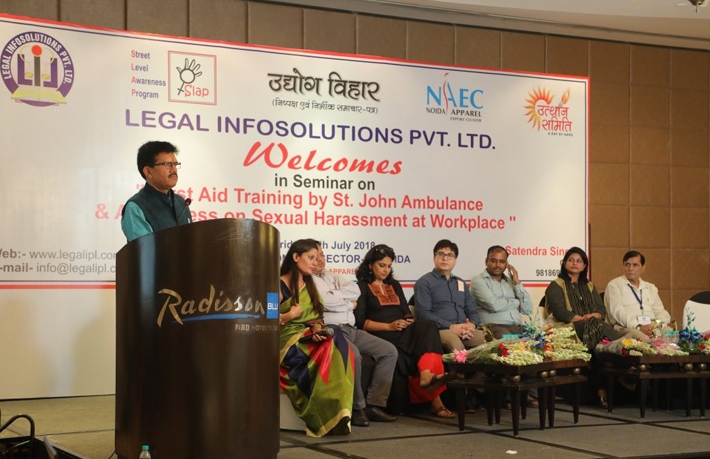 Sexual Harassment of Women at Workplace:
Sexual assault is any kind of bullying that includes all use of clear or implied sexual connotations, as well as the unwanted and unethical offer of benefits in return for sexual favours. Company sexual violence is a method of unethical job discrimination. Sexual misconduct is described as inappropriate conduct that is insulting, degrading, or threatening. It can even be printed, verbalized, or actual, and can occur to a person or over the phone.
The sexual act of violence could impact between. males and females.
The offender may be a co-worker – senior or junior. A non-employee, including a vendor/customer, will be held liable.
The offender may be of either sex but have little connection towards the survivor, as well as becoming an immediate supervisor, direct boss, co-worker, tutor, peer, or friend.
Some examples of Sexual Harassment:
The physical act of Sexual assault
Request for Sexual Favours
Unwanted Touching or Physical Contact
Emotion compelled to partake in sexual intercourse with others.
What Can you do?
No one warrants or requests sexual harassment. All have the choice to express and reside in a clear of abuse, intimidation, bigotry, and aggression atmosphere.
Sexual abuse should be against a law (under the Sexual Harassment of Women at Workplace (Prevention, Prohibition and Redressal) Act, 2013).
The law provides that every employer with more than 10 employees must constitute an Internal Committee (IC) within the organization to handle complaints of Sexual Harassment. Both organized and unorganized sectors are covered by this Act and non-compliance with any directives will lead to consequences.
If you've been assaulted at the workplace, college, or university, learn about their systems and regulations for stopping and dealing with sexual assault.
Record all that happened, like where, when and how, the identities of those who witnessed it, as well as what you did to prevent it.
Texts, online posts, notices, and addresses can all be saved. This information can be useful if you file a lawsuit.
First Aid Training:
When there is an injury where anyone is wounded, they must get prompt help or care. This is done to avoid any injuries or to hold the survivor safe well before a trained emergency practitioner appears, if possible.
If it is a small or large accident, a swift reaction is required but the first minutes when somebody is hurt will decide why the majority of the incident evolves.
First Aid Practices
It's the secret towards the 'Retaining Life' principle: a swift reaction to an incident will still save lives as well as reduce the chance of problems worsening.
When anyone requires assistance following an accident or illness, you should not hesitate to assist if necessary.
Inside of any incident, encouragement will include more comfort than you would imagine but help individuals in setting goals.
Before a care practitioner arrives, you must administer first aid procedures to improve the wounded person's health.
This falls underneath the 'conserve life' umbrella and fits the following protocol flow:
consciousnessAirway
breathing
circulation
bleeding,
There was one of the Events conducted by Legal Infosolutions Pvt Ltd "Awareness on Sexual Harassment and First Aid training" was held on July 27, 2018, at Radisson Blu MBD Hotel Noida, where Mr Satendra Singh was a part of a team and panels. Satendra Singh is an Indian social worker who works on a variety of critical environmental challenges faced by males and females in India who face inequality. For 15year's he is also the founder member of the old people's movement foundation called "Clean, Green, Healthy and Educated India".
"Satendra Singh is a founding member of the Utthan Samiti (A Ray of Hope), a coalition of hundreds of radical people's associations. He has owned various types of awards such as Social impact Award, Shining Diamond Award, Clean, Green, Promotion-2017 Award, Dr APJ Abdul Kalam Award 2015 and many more Achievements."
Conclusion
A member of various committees and commissions Students, trainees, professors, employees, including supervisors on this country's university campuses, along with representatives of study and testing facilities, should feel responsible for fostering civil and supportive schooling, learning, and job cultures as well as standing up and exposing for whom attitudes and activities build sexually assaulting workplaces.